Enjoy listening to God's word each day on your android device!
We are glad to present our Bible app containing the new version of the most important Bible off all time: King James Version.
Experience the rich message of the King James with the updated version: New King James Version, the translation in clear and readable English.
NKJV remains faithful to the original Scriptures while being easy for people to understand.
This is the text and audio Bible app. If you are very busy and you do not have a minute to sit and read the Bible, then the "New King James Version" audio version is perfect for you.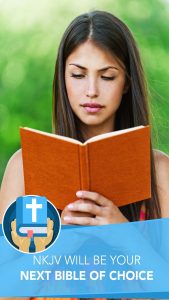 Features:
– Audio Bible
– Free
– Available to read offline (when you have no network connection)
– Select and copy verses
– Create a list of favorites
– Add your own notes to verses
– Share verses in social networks
– Keyword research
– You can change the font size of the text to make it more readable
– Set night mode
The New Testament was published in 1979, and the full Bible in 1982. The anglicized edition was originally known as the Revised Authorized Version, but the "New King James Version" title is now used universally.
List of books of the New King James Version (NKJV):
Old Testament: Genesis, Exodus, Leviticus, Numbers, Deuteronomy, Joshua, Judges, Ruth, 1 Samuel, 2 Samuel, 1 Kings, 2 Kings, 1 Chronicles, 2 Chronicles, Ezra, Nehemiah, Esther, Job, Psalms, Proverbs, Ecclesiastes, Song of Solomon, Isaiah, Jeremiah, Lamentations, Ezekiel, Daniel, Hosea, Joel, Amos, Obadiah, Jonah, Micah, Nahum, Habakkuk, Zephaniah, Haggai, Zechariah, Malachi.
New Testament: Matthew, Mark, Luke, John, Acts, Romans, Corinthians 1 and 2, Galatians, Ephesians, Philippians, Colossians, 1 Thessalonians, 2 Thessalonians, 1 Timothy, 2 Timothy, Titus, Philemon, Hebrews, James, 1 Peter, 2 Peter, 1 John, 2 John, 3 John, Jude, Revelation.
Try to install now. You will love it!