Read or listen the Amplified Bible app, the best offline study tool for Bible readers.
Download a complete Bible translation that uses amplifications, synonyms, definitions and key words for a better understanding of the Scriptures.
This easy-to-use app will make the Bible more accessible to you than you ever thought possible.
This app gives you the opportunity to grow in faith and knowledge. Enjoy new features in your smartphone: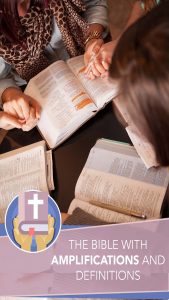 – Audio Bible: Listen to the Holy word
– It is FREE!
– Offline use (No Internet required)
– Easy access to all chapters, books, notes and amplifications
– Portable and easy to use! Take the word of God go with you everywhere.
– Highlight passages that stand out so that you can come back to them later
– Write down notes
– Share verses with friends and family via text message, Whats App or email
– Share them in social networks
– Remember where you last stopped reading
– Increase and decrease of font size according to user need
– Night mode to reduce the brightness of your screen and protect your eyes
– Keyword research
The Scriptures are the truth; the God's Word is useful and helpful. Choose verses and passages and apply them to your life.
Exploring God's Word can be one of the greatest adventures of your life! Choose a book and begin today:
The Old Testament is composed of 39 books: Genesis, Exodus, Leviticus, Numbers, Deuteronomy, Joshua, Judges, Ruth, 1 Samuel, 2 Samuel, 1 Kings, 2 Kings, 1 Chronicles, 2 Chronicles, Ezra, Nehemiah, Esther, Job, Psalms, Proverbs, Ecclesiastes, Song of Solomon, Isaiah, Jeremiah, Lamentations, Ezekiel, Daniel, Hosea, Joel, Amos, Obadiah, Jonah, Micah, Nahum, Habakkuk, Zephaniah, Haggai, Zechariah, Malachi.
The New Testament is composed of 27 books: Matthew, Mark, Luke, John, Acts, Romans, Corinthians 1 and 2, Galatians, Ephesians, Philippians, Colossians, 1 Thessalonians, 2 Thessalonians, 1 Timothy, 2 Timothy, Titus, Philemon, Hebrews, James, 1 Peter, 2 Peter, 1 John, 2 John, 3 John, Jude, Revelation.