Download this app specially made for devote Christians! An audio Bible app to read and listen to the Word of God.
We offer you the New Revised Standard Version of the Holy Bible for free downloading.
New Revised Standard Version is a contemporary revision of the Revised Standard Version (1952), which was based on the American Standard Version of 1901.
Our app will work in an offline mode as needed depending on your network connection.
Read comfortably anytime anywhere on your smart-phone or tablet. Carry it to the church and use it for personal study.
The NRSV will became the Bible of your choice!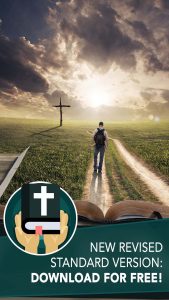 Benefits of NRSV app:
– Free app for android smart phones or tablets
– Complete Bible with the Old and the New Testament
– Audio Bible App (Hear and read the Bible)
– Offline app(the Bible can be read when you have no network connection)
– Bookmark your favorite verses
– Select, copy and share them with your friends on social networks
– Add to favorites
– Night mode function to minimize the stress of your eyes so you can enjoy your bible reading
– Adjust the size of the text for a comfortable reading
– Add your own notes to verses
The Bible is divided into two major sections known as the Old and the New Testament:
NRSV includes the deuterocanonical books of the Old Testament:
Genesis, Exodus, Leviticus, Numbers, Deuteronomy, Joshua, Judges, Ruth, 1 Samuel, 2 Samuel, 1 Kings, 2 Kings, 1 Chronicles, 2 Chronicles, Ezra, Nehemiah, Tobit, Judith, Esther, 1 Maccabees, 2 Maccabees, Job, Psalms, Proverbs, Ecclesiastes, Song of Solomon, Wisdom, Sirach, Isaiah, Jeremiah, Lamentations, Baruch, Ezekiel, Daniel, Hosea, Joel, Amos, Obadiah, Jonah, Micah, Nahum, Habakkuk, Zephaniah, Haggai, Zechariah, Malachi.
The New Testament is composed of 27 books: Matthew, Mark, Luke, John, Acts, Romans, Corinthians 1 and 2, Galatians, Ephesians, Philippians, Colossians, 1 Thessalonians, 2 Thessalonians, 1 Timothy, 2 Timothy, Titus, Philemon, Hebrews, James, 1 Peter, 2 Peter, 1 John, 2 John, 3 John, Jude, Revelation.