It is an honor for us to offer our audio edition of the best Bible: New International Version. Download it for free and enjoy one of the Bible's most famous translations.
The NIV is the second most-read version of the Bible in the United States, after the King James Bible.
Now in an easy-to-use app with the following features:
– Audio Bible: read and hear NIV at the same time
– It is FREE
– Offline use (No Internet required)
– Easy access to all Chapters of Holy Bible NIV
– Portable and easy to use! Take the word of God go with you everywhere.
– Select verses you want to bookmark
– Add your own notes to the verses
– Share the Bible verse you like with friends and family via text message, social network or email
– Remember where you last stopped reading
– Increase and decrease of font size according to user need
– Switch to night mode and the display is much easier on the eyes
– Keyword research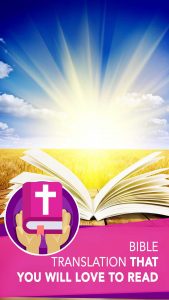 The New International Version (NIV) is an English translation of the Christian Bible. Originally published in the 1970s, the NIV was updated in 1984 and 2011, and has become one of the most read and trusted modern translations.
The NIV captures the original meaning of the Scriptures. NIV is accurate, beautiful, clear and suitable for public or private reading.
Do not miss the opportunity to have the most widely read Bible on your phone and read or listen every day the Holy Word of God.
Choose a book and began to read:
Old Testament: Genesis, Exodus, Leviticus, Numbers, Deuteronomy, Joshua, Judges, Ruth, 1 Samuel, 2 Samuel, 1 Kings, 2 Kings, 1 Chronicles, 2 Chronicles, Ezra, Nehemiah, Esther, Job, Psalms, Proverbs, Ecclesiastes, Song of Solomon, Isaiah, Jeremiah, Lamentations, Ezekiel, Daniel, Hosea, Joel, Amos, Obadiah, Jonah, Micah, Nahum, Habakkuk, Zephaniah, Haggai, Zechariah, Malachi.
New Testament: Matthew, Mark, Luke, John, Acts, Romans, Corinthians 1 and 2, Galatians, Ephesians, Philippians, Colossians, 1 Thessalonians, 2 Thessalonians, 1 Timothy, 2 Timothy, Titus, Philemon, Hebrews, James, 1 Peter, 2 Peter, 1 John, 2 John, 3 John, Jude, Revelation.
Hope you enjoy the app!